Coire an t-Sneachda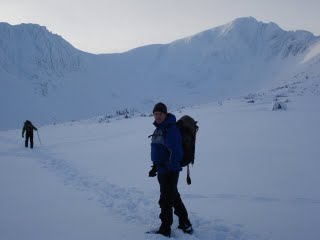 A short day out today so Alan and I went in to Coire an t-Sneachda to see all that we didn't see yesterday and we got lots of opportunities for photos and cramponing on the flat ice at the back of the coire.
There were climbers on Hidden Chimney, Central Gully, Spiral, Patey's Route and lots on Mirror Direct and more. It all looked stunning! Ron was out with Mark on Jacob's Edge and Hidden Chimney, more
here.
My trusty laptop is still not playing so I'm slowly getting the hang of vista for uploading pictures...! Technology is obviously not my forte!