Trail breaking, snow shelters, snow and more snow!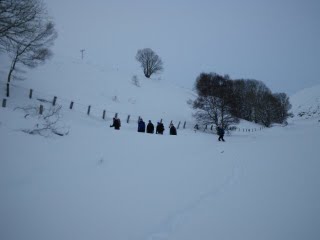 Today we set off again away from the ski area and the Northern Corries to find a good slope for ice axe braking and after a good bit of sliding about packing down the snow, we had our slope. After that we headed uphill through the trees along snowy trails with a big team effort at trail breaking to find somewhere we could dig snow shelters and look at the snow in more detail - interesting cornices, drifts and windslab.
The snow was rather too deep and soft for crampons but we put them on to experience just how important it is to clear off the packed in snow from the base of the boot to make sure the crampons fit properly and also how easy it is to lose things in the deep, soft snow. It was starting to snow again as we headed back to Aviemore.
I forgot to take my camera today - bother! One of
Ron's
pictures above and a couple from Chad.