Coire an t-Sneachda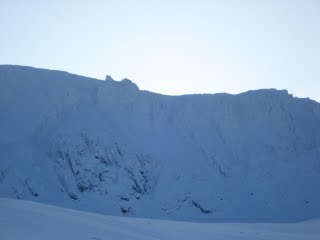 We went into Coire an t-Sneachda today on a good but long trail which made the walking much easier than yesterday. The track goes down towards the stepping stones but don't cross over (unless you want to head towards the Fiacaill Ridge which is where the track looked liked it was heading) as the track then follows the stream up towards Coire an t-Sneachda. Step out of the trail and the snow is at least knee deep!
We were looking for a good place to look at emergency shelters, snow, some basic abseils off snow bollards and more snow! The moraine ridge was perfect.
Today we had views towards the climbs and could see some climbers heading up Aladdin's Couloir, Mirror Direct, Aladdin's Mirror perhaps towards Pygmy Ridge, Red Gully and Goat Track Gully.
The ski area was very busy today and we were lucky to get into the Coire na Ciste car park at nine thirty this morning. The skiing and snowboarding did look fantastic!
More about Talisman Activities and more from Ron
here
.
Ron is out with Richard, James, Nick and Steve tomorrow to find some steep ground to look at technical climbing skills. I'm off to Edinburgh for the day!