More adventurous training and lots more snow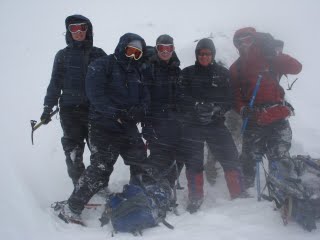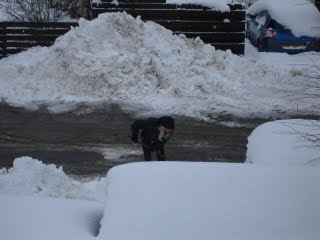 Over the past few days I was working again with another
Talisman
Adventurous Training Group.
Our first day was spent looking at navigation, weather and snow then on day two, we headed down to the drifts below the Coire Cas car park to practice ice axe braking, step kicking and cutting and more navigation. We headed up the stream towards Coire an t-Sneachda in white out conditions and deep snow so after a bit we decided to navigate our way back out to the car park.
The amount of snow that fell that day meant that day three was spent partly indoors looking at avalanche awareness skills on video then we moved outside to have a snowman building competition, to try out the tranceivers and to dig out the cars.
This has been the first time I have been glad to have snowchains to put on my car!
This morning I woke up to find a tractor digging out our car parking area then I had three hours more digging to clear a big enough parking space for the cars! I'm beginning to think that digging a snowhole might have been easier. Maybe I should dig one in my garden!!!!