A great day out around the Northern Corries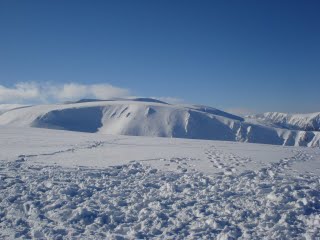 A perfect day for our walk on the plateau around Coire an Lochain and Coire an t-Sneachda with some great views again! The snow sparkled in the sun and the hoar frost on the snow's surface made it feel like walking through feathers.
Loads of people out ski touring and a few climbers in Coire an Lochain, many more in Coire an t-Sneachda and quite a snake of people heading up the Fiacaill Ridge, Ron and his group included.