Snow, skills and sunshine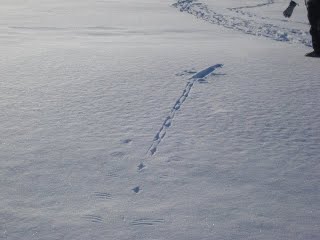 Out today with Janice, Wendy, Gaud, Carol and Kirstin for a day of winter skills with great snow for sliding on, kicking and cutting into and for burrowing into some emergency shelters though the digging was a bit hard under the softer snow on the surface.
Fantastic weather with blue skies and sun and looks like more for our day out tomorrow too.
We spotted some strange marks in the snow which, on further examination, turned out to be where the grouse were landing and taking off!
Ron was at a neighbouring snow drift and photos from him
here