La Grave is a quiet, little village in France with a lot of appeal for ice climbers and ski mountaineers. La Meije provides a fantastic ski descent of over 2,000 metres and the narrow valley below has many waterfalls which freeze in the winter months giving some incredible ice climbs.
The north facing slopes see no sun and are very cold so ideal for climbing. This is where probably the most popular route, Le Pylon, is found. Unfortunately it can also be the busiest and it is not uncommon to see the light of head torches on the route at six in the morning and late on into the evening too. There are many other routes including La Nuit Sera Fraiche, La Croupe de la Poufiasse and Colere du Ciel to name just a few.
In January 2006, there were icefalls in condition that I have not seen in a climbable state since my first trip there five years ago. This emphasized to me that it really is a case of just getting there and seeing what are the best routes to do. Over a two week period, we managed to find routes that we either had to ourselves or share with one or two considerate parties. I have to admit we avoided Le Pylon, good route though it is! By comparison, January 2007 was very mild and very few routes in the La Grave valley were in condition. We climbed instead at Alpes d'Huez and at the Col du Lauteret which are higher and were therefore in better condition.
Some of the climbs on the south facing slopes are only a few minutes from the road - Caturgeas and Les Moulins being two of the most obvious. Given the growing popularity of the area it is well worth getting hold of a copy of the guidebook (details below) to allow other climbing routes to be explored. There is also a Bureau des Guides in the village and this is where daily weather forecasts are posted.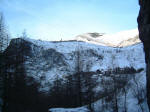 La Grave - rarely touched by the sun in winter means great icefall climbing
La Meije, 3,982 m high giving a ski descent of 2,150 metres
Fi on Le Pylon, 2002, one of the most popular routes, 70m, grade 1,3 (left) and 1,4 (right)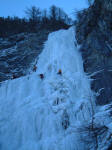 Many climbers on both routes on Le Pylon
La Gorge or Cascade de la Meije, 2003, 150 metres, grade 1,3
Short pitches, icy bulges - La Gorge is a great place to practice.
Ian tentatively crossing a semi-frozen pool on La Gorge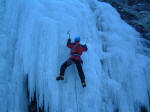 Ron on steep ice on Les Moulins, 2003, 600 metres if climbed in full and grade III,6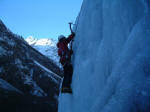 More steep ice on Les Moulins, 2003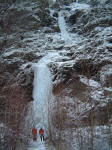 Mini Moulins is just minutes from the road, 200 metres, grade II, 4+, great ice climbing!

Ron on Mini Moulin's first pitch, 2003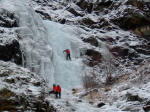 The upper pitches of Mini Moulins, 2003
La Nuit Sera Fraiche, 100 metres, II,3+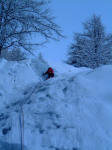 La Colere du Ciel, 300m, grade II,3 - Fi on the first pitch, 2004
Ron climbing the third pitch on La Colere du Ciel, 2004
Fi on the top pitch of La Colere du Ciel - it was steeper than it looked!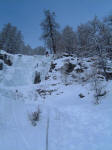 and abseiling back down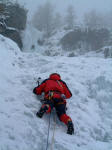 La Croupe de la Poufiasse, 220m, II,4+, 2004
Ron thinking about the next pitch on La Croupe !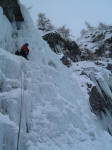 The final pitch is very steep and often not complete - we were lucky!